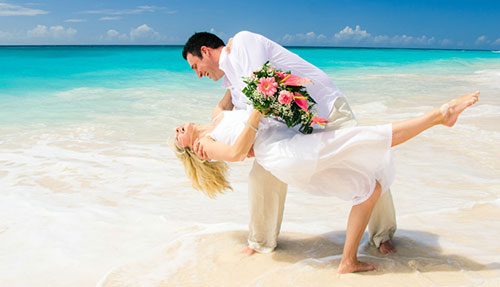 Mauritius Island is already known as one of the best destinations for wedding overseas.
With beautiful post-card sceneries, beautiful beaches, welcoming turquoise waters, delicious local dishes, lovers from all over the world choose Mauritius for its breathtaking range of wedding venues and photogenic spots.
You too can achieve your dream of getting married on one of the paradise beaches of Mauritius island: imagine, with a magnificent sunset as background, the whispers of the waves crashing against the shore, sound as music, the beach breeze blowing softly through your hair, barefoot on the white, fine sand covered with flowers as you prepared to give your vow to each other for life. What could be more wonderful and romantic than to celebrate your wedding in Mauritius Island!
Not to forget the decorated and well-arranged table buffet for the wedding reception.
Once you have exchanged rings, it is time for the reception to begin, which means, it is time to serve food. Guests get to choose food from the selections at any point during the party, from the cocktail hour reception to late night desserts.
PERFECT BUFFET TIPS
Think of it as essentially a food station where guests can come up and collect their food. This style offers a lot of choice for both hot and cold menu choices alike. With a rustic table it can be cold, hot or Barbecue or even spit roast! The priority is to have a good organization, to plan the appropriate quantities of vegetables, meat, fish and dessert.
On the other hand, finger foods and mini bowl dishes allow guests to eat whilst standing or interacting with each other.
Concerning dessert buffet menu, smaller confections: mini cake shooters in lemon curd and chocolate truffle flavors to satisfy everyone. Vegetables mini quiches, red fruit terrines with yogurt, salty or sweet, the advantage of cold buffet is that in terms of flavors, one can indulge. Mini pizza, mini burgers, candy bars are always nice and the kids rave about them, you can serve bruschettas, or terrine of mixed salads or rice salad, bouché with foie gras or salmon, cupcakes or cream puffs pièce montée.
Do not forget to have some raw vegetables as salad for those who are always being on a diet.
PLAY WITH SHAPES AND COLOURS
To make them look more appetizing, you may dispose your vegetables in an original way : pointed on toothpicks, a pineapple, a pyramid, heart shape among others.
Hire a catering service in Mauritius. The catering service will take care of preparing everything for you.
Be happy on your big day and enjoy your meal buffet together with your friends and families.
PHOTOSHOTS
The wedding could not be complete without capturing some beautiful photos. Your wedding photos are something you will keep forever so you need to make sure you get the perfect wedding photographer in Mauritius.