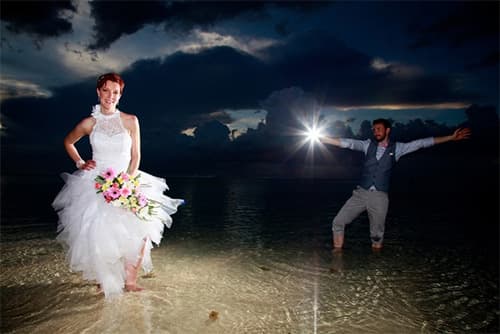 Mauritius, located in the western Indian Ocean is the perfect wedding and honeymoon destination. A country where you can enjoy the beautiful sunshine, white sand beaches surrounded by stunning landscapes.
In Mauritius, there is a panoply of enchanting venues to choose from for your wedding ceremony like, underwater, in a garden, on a sumptuous catamaran in the middle of the sparkling turquoise lagoon of Mauritius. More and more couples are choosing to marry on this paradise island.
Do you want the wedding day to be the most beautiful day in your life on one of the hotel's private beaches in Mauritius? Out in the open, facing the Indian Ocean and having the powdery white of its sands as witnesses.
BUEGET
Your budget plan will include marriage/reception hall, decorations, clothing, music, food, drinks, cakes, photographer. All these items are essential to celebrate a marriage. A wedding dress itself can cost up to 3000 USD .
The cost of a wedding celebration on the island of Mauritius depends on the hotel, or the venue chosen as well as the type of ceremony. Mauritian hotels often offer discounts on accommodation. The cost of a wedding celebration includes:
air tickets
accommodation
the ceremony
MARRIAGE
Your wedding will take place on the third day of your stay in Mauritius: You must sign the required documents in Port Louis to be able to obtain a legalized marriage certificate about a week after registration. Completion must be certified by a notary.
HOTEL WEDDING PACKAGES
The cost of the flight, weekly hotel accommodation as well as an insurance may amount up to 5,000 Euros. The price will depend on the season and the hotel chosen.
The price of the wedding package is approximately 1000 euros and consists of :
registrar services
signature of legal documents
escort of tour operator representative
wedding dress preparation
cake, romantic dinner for two, a bottle of champagne and gift from the hotel
CLASSIC COLLECTION
From approximately 3, 185 Euros per couple: this service includes the booking of the trip of the flight, the hotel and the transfers, the symbolic wedding for 2 people within a hotel category 3*
COLLECTION PREMIUM (TARIFF 2020)
Wedding on the beach (outside hotel) from 1,820 euros per couple.
A complete formula including the civil ceremony, decoration, a professional photographer, and the wine of honor
Flight and hotel not included.
Without a proper photoshoot, the wedding is not complete. You must plan for a nice wedding photo session in the paradise island of Mauritius. For all your photos as well as exceptional videos of this memorable day, we recommend you book a professional photographer like Elie Bernager, a gifted wedding photographer in Mauritius. He will shoot bright and natural photos with your style preferences. Please, do contact him for more details on your wedding photoshoot.