More and more couples are choosing Mauritius, the tropical island paradise to get married rather than in their local country. Apart from its white sandy beaches and the turquoise blue lagoons, Mauritius provides you with a number of wedding locations, each as amazing as the other, adapted for different tastes.
You just have to figure out enjoying a mesmerising wedding celebration, hand in hand with your partner, with your glowing skin, your sparkling smile and your soft eye make-up, wearing your beautiful princess white dress on a fine sandy beach with the crystal clear lagoon as witness to your union.
Every bride is the star of her wedding and every woman wants to look amazing on her special day.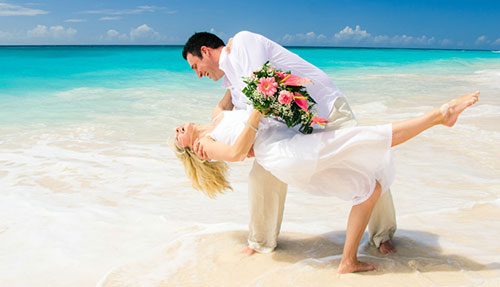 Here are some of the beauty tips:
GIVE YOURSELF TIME
Weeks, if not months, before your wedding day you should start preparing for your beauty. This includes everything:
Your personal trainer and nutritionist can help you to exercise and eat healthily…
Visit an aesthetician for regular facials and skin brightening and do whole body massage
Treat your hair, colouring, hair cut or have an extension….
Invest in manicures and pedicures to ensure your hands and nails are in tip-top shape
Visit a dentist for a check up and whitening the teeth, among others.
Get enough sleep ( lack of proper sleep can lead to dark circles)
Manage your stress.
WEDDING MAKE-UP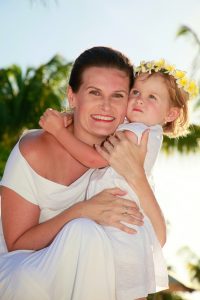 Hire a professional makeup team for the entire day to apply your moisturizer, primer, full coverage foundation, and so on. She will know how to give you a beautiful finish whilst staying put throughout the ceremony.
Natural make-up is common for weddings because at times brides want to look like themselves, just a little more enhanced. This look includes beautiful and natural tones on the skin and lips and the slightest of impressive detail on the eyes. Liquid eyeliner, and false eyelashes or extension can help produce this effect. You will love feeling like a glam version look.
The rosy matt colours and textures are lovely and fresh. The skin is softly contoured, and the lips are gorgeous, the eyebrows are shaped.
You can apply the same colours on the cheeks and lips which will give an overall natural feel that will stay up well through your wedding day.
Add in glowing skin and a pinkish nude lip.If you have a strapless wedding dress, you can add a highlight to your shoulders and décollté by applying body enhancer.
A bold swipe of colour on the lips with minimal eyeliner and flushed skin is a serious win for your makeup, especially if your wedding is outdoors and the weather is warm. This is a pretty look and will also photograph attractively.
Photos are one of the most important parts of the wedding as they are memories you will cherish forever. Thus, you have to hire a professional wedding photographer. We recommend the famous wedding photographer in Mauritius, Elie Bernager.
Elie Bernager has the experience of taking photos in different light, different conditions, composing different shots and executing it perfectly.