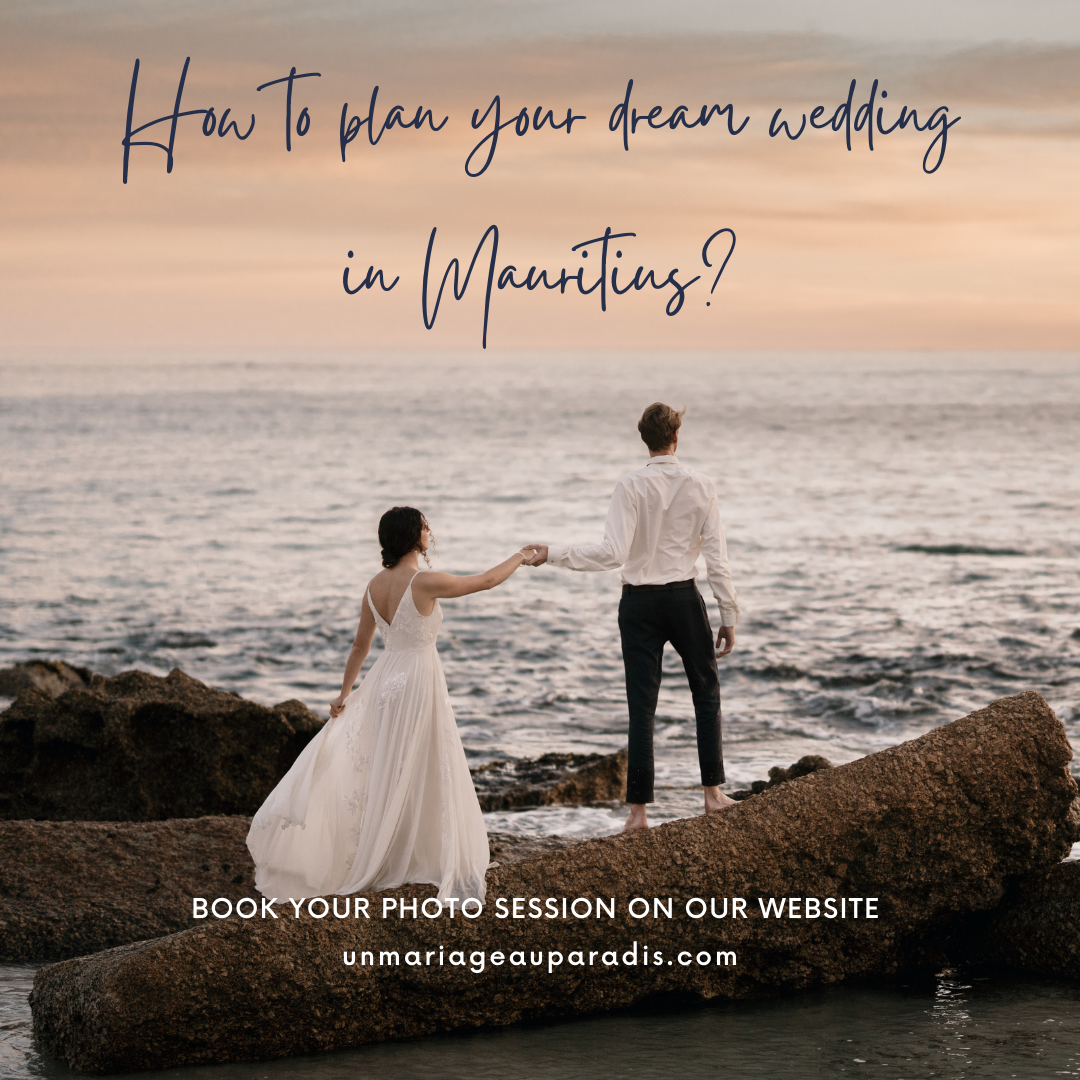 Anyone would dream to plan his/her wedding in Mauritius, a heavenly place, with its tropical beauty in the midst of the Indian Ocean. What could be more romantic in history for a couple to say yes to each other in Mauritius, the paradise island which is a perfect host for you.
Planning your wedding in Mauritius requires a little organisation and good preparation. Even if you do not know Mauritius that well, you can also plan your wedding online before your arrival.
If you decide to marry in Mauritius, you will have a wide choice on the location of the wedding. Imagine marrying on a beautiful sandy beach under a charming gazbo with floral arrangements facing the blue waters, with endless sunshine. However, there is a lot more in this tropical paradise than just sun, sand and sea. Below are some places to consider that will amaze your guests.
WEDDING LOCATION
Hotels
beaches
gardens
underwater
tent in the middle of the forest
On catamara,n
WEDDING TRANSPORT  IDEAS
by helicopter
horse carriage
by boat
limousines
PREPARATIONS TO BE DONE ON YOUR SIDE
Although all preparations will be done in Mauritius, you will have to take care of certain steps before hand:
Wedding dress
Groom outfit
Hair styling/ makeup
The wedding rings
All legal documents
Your accommodation in Mauritius
Honeymoon
DOCUMENTS TO BE FORWARDED
Two photocopies of each birth certificate drawn up in english.french
The date of issue of the birth certificate must not be more than 3 months
Two photocopies of each passport (the first three pages only)
Relevant documents in respect of divorce, widow/widower or change of name
In addition to the above documents, a French national should produce a "certificat de capacité de mariage"
A certificate of non citizen and non-resident is issued to the parties in Mauritius after verification of their documents  whose date of issue shall not be more than 3 months.
The marriage is celebrated in an office or any other private premises by the Civil Status Officer of the locality where the parties will reside  after a publication of banns of 24 hours.
You must be in Mauritius at least 3 days before the wedding date.  You can also do your civil ceremony in your city of residence and then your religious wedding here in Mauritius.
You may also contact a wedding planner to organize your wedding.
A WEDDING PLANNER WILL TAKE CARE OF:
Decoration
An Orchestra or a DJ
Catering
Florist
Photographer
The big wedding cake
Prepare everything for religious wedding (any religion) as well as reception
CHOOSING YOUR WEDDING PHOTOGRAPHER IN MAURITIUS
Since your photos will be memories forever, it is imperative to look for a professional and a renowned photographer
Mauritius weddings can be a dream comes true. To make this event memorable, we recommend the famous wedding photographer Elie Bernager, well known in Mauritius and in the indian ocean with more than 20 years of experience, and whose sole purpose is to make you happy by immortalizing this day in happiness and joy.